China Book Printing: Types of Finishing - Binding 1/2
China Book Printing: Types of Finishing - Binding 1/2
Binding is generally considered to be the process of fastening the sheets of a publication in the proper order and most often within a protective cover.
There are various methods of binding available that can be selected for the type of publication and/or for the type of handling it will receive.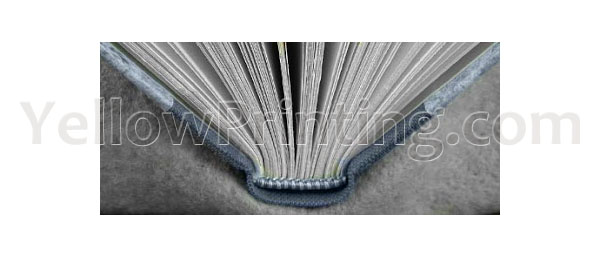 Perfect binding is one of the most commonly used binding methods. It is used for many types of publications.
Pages for a perfect bound publication are gathered, stacked, and placed in special equipment where the binding edge is covered with glue. A cover is then attached to the book to complete the process.
This method is most successful when the paper grain runs parallel with the spine of the book. Magazines and books may have the title and other information printed on the flat spine of the cover.
Perfect binding is one of the most automated of the binding methods. It can be divided into three main categories: hot adhesive, cold adhesive, and thermal binding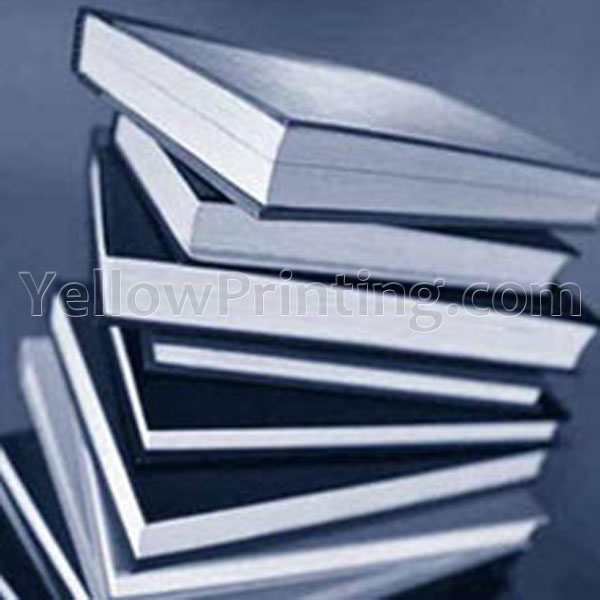 Hot Adhesive Perfect Binding
Hot glue is the most widely used of the perfect binding adhesives. Books are usually 1/4" up to 2 1/4" thick depending on the thickness of the substrate. A major disadvantage with hot adhesive is that the book cannot lie flat when it is open. The binding will break if too much pressure is applied in attempting to make the book lie flat when it is open.
Cold Adhesive Perfect Binding
Cold glue is not used as often as hot glue because it is more expensive and requires more time to cure than hot glue, but it is stronger and more flexible.

yellowprinting.com
When the cold adhesive is used in conjunction with a scored and hinged cover, the book is able to lie flat when it is open without cracking the binding. Books with perfect bindings made with cold adhesive range in thickness from 1/8" to 2 1/4".
Thermal Binding
Thermal binding is similar to the hot adhesive method of perfect binding in that adhesive and heat are used to form the binding, but instead of hot glue, an adhesive strip is used.
Pages are fed into a machine where an adhesive strip attached to a wrap around cover is applied to the binding edge of the pages. Heat is applied so that the adhesive strip and cover are adhered to the pages.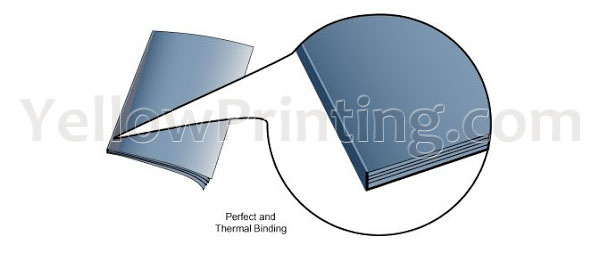 Plastic Comb Binding
Plastic combs are another binding method that allow for the addition or removal of pages from a book. The system involves punching rectangular holes into pages, which are then slid over the fingers of the plastic comb.
A standard 11" sheet would have 19 holes punched into it. The plastic combs are durable and come in a variety of colors. Book titles or descriptions can be printed on the spine of the plastic comb so that the book can be identified when it is being stored.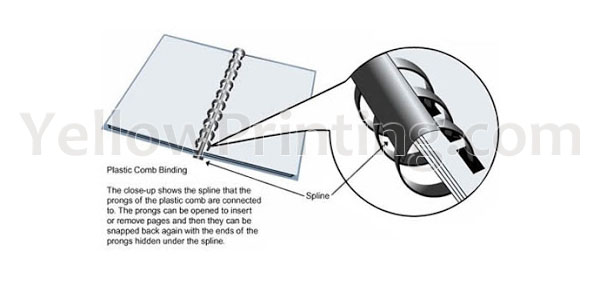 Spiral
A spiral binding consists of a continuous wire, which is coiled through evenly spaced holes that have been punched into the pages of a book.
The spiral wire can be made of metal, plastic, or plastic coated metal. Plastic is available in a variety of colors, but the metal spiral has a limited color selection.
When the books are open, the pages lie flat. The pages can also be folded over completely, which makes spiral binding a good choice for training manuals, cookbooks, notebooks, and calendars

Double loop wire binding consists of a series of double wire loops from a continuous pre-formed wire, which are inserted into pages that have been punched with square or round holes.
The loops of the wire are held opened by a machine to allow the pages to be inserted over the loops. Once the loops are closed, extra pages cannot be added.
Double loop wire works best for books of one-inch thickness or less. Many technical manuals and cookbooks have this type of binding and they are very popular among architects

Double loop wire binding is also known as "Wire-O-Binding". Listed below are the types of wire available.
3:1 Wire: With this wire, the paper is punched 3 holes per inch, which is 32 holes per standard 11" sheet size. It is available in sizes ranging from 3/16" up to 9/16" in diameter. It has the best appearance of all double loop wire.
2:1 Wire: Pages are punched with 2 holes per inch or 21 holes per standard 11" sheet size. 2:1 wire is used for binding books that are too large for 3:1 wire and is available in sizes ranging from 5/8" to 1". The wire is more durable and sturdy than 3:1 wire. 19 Loop: The pages are punched with 19 rectangular holes per standard 11" sheet size and the wire comes in diameters ranging from 1/4" to 1". The wire is similar in appearance to 2:1 wire.
Loose Leaf Binding is one of the simplest methods of binding. Cut pages are punched with holes to accommodate the rings or posts contained in the binder. An advantage to both ring or post binders is that pages can be added or removed easily.
The ring binder also has the advantage of allowing the pages to lie flat when the book is open, making it a good choice for technical or training manuals. An allowance for the inner margin (gutter) must be made to allow for the holes that are punched in the pages
Post Bind
Binds a group of loose leaf sheets using a screw and post inserted through the holes that are punched in the sheets

If you are looking for a Printing Company, try to contact
Yellow Printing
YellowPrinting: If you copied it to elsewhere, please show the
original source
of this article, thanks.